When I first work with customers who are considering partnering with Marco for Managed IT Services, there are a few assumptions they bring to the table that are, for lack of a better word, false. In this post, I'll be sharing three of the most common myths surrounding Managed IT Services and explaining what our customers really can expect when Marco is their Managed IT provider.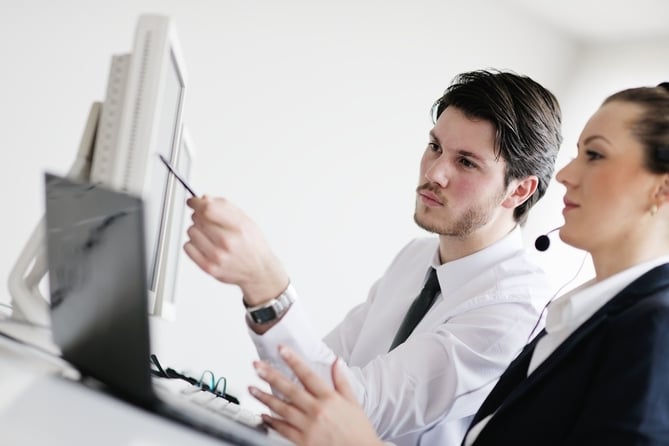 Myth #1: Managed IT Services are Expensive
This myth is born out of a misunderstanding of what current organizational costs Marco's Managed IT replaces. In order to get a true picture of the value Managed IT brings to your organization, let's take a moment to talk about all the things you won't have to budget for under this service.
First things first, yes Managed IT Services covers the day-to-day IT needs within an organization, but that's just the beginning. Many software purchases and upgrades are covered under managed IT, along with support, service and proactive monitoring. There are no additional invoices, no additional providers, just a single, monthly investment in the service.
Additionally, your organization will always have up-to-date patches, which prevents ransomware from infiltrating or spreading, and you'll run on optimum security levels 24/7. If you aren't familiar with ransomware, it is "malware that locks your keyboard or computer to prevent you from accessing your data until you pay a ransom, usually demanded in Bitcoin." It has recently been used on computers in over 150 countries (which you can read more about in Kim Zetter's WIRED article here).


Myth #2: Managed IT is a One-Size-Fits-All Solution
All Managed IT Service offerings are not the same. Sometimes I work with a new customer who's had a previous Managed IT experience where they would get to choose between distinct packages or levels of service, but they weren't able to customize the service to their business needs. That is not the case with Marco's Managed IT Services. We take a singular approach to each business and each customer we work with. By listening to your specific needs and obstacles, we can build a Managed IT solution that's specifically geared toward your business.
In times of high need, we have the staff and the capacity to rise to meet that demand quickly and efficiently. You won't need to waste time stressing over whether you need to hire additional IT staff during the busiest times or worrying if you'll be able to keep those staff members busy during slower times. With Managed IT, we're able to step in and step up in times when your organization needs it.


Myth #3: Managed IT Comes With Hidden Fees
Marco's Managed IT Services are an investment in your organization. Instead of a capital expense, these services are an operational expenditure. Companies invest in this service by paying a consistent dollar amount every month. Once you get started with our Managed IT Services, there are no additional costs above your monthly investment.
We believe customers shouldn't pay more just to benefit from the expertise of the organization that's providing the service. We handle comprehensive backup and intrusion protection. Beyond this, we have the internal staff and support to provide the highest level of service to our customers, even in the event that someone resigns or retires. Some smaller providers can't give their customers that same peace of mind.
To truly see the value of Managed IT Services compared with your current IT-related expenses, take a moment to chat with one of our Managed IT Specialists. They're able to paint a clear picture of what you can expect every step of the way. And once you're benefiting from Marco's Managed IT Services, your organization will always be running on the latest and greatest IT software, without the uncertainty or hidden costs.
Topics: Managed IT Services