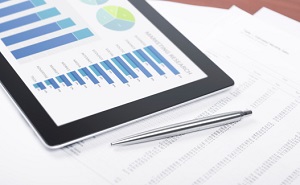 A couple of the reasons you invest in printing equipment or a print services are to reach your goals of increased productivity and eventually lowering costs. There are a variety of print management software programs that can be installed on your devices to help you track productivity and identify these cost-saving opportunities.
Your print provider can help you integrate your multifunction copiers and printers with these print management software solutions and assist in identifying cost saving adjustments. Here are some of the software solutions we've found successful and scenarios for how they have proven to be useful.
Valuable Print Management Software
Equitrac
Equitrac is a print tracking and cost recovery software solution that can be integrated with HP, Sharp, Canon and Konica Minolta multifunction printers. Once implemented it can help your organization reduce waste, recover costs, enhance security and simplify IT support. Here are some of the features and capabilities according to Equitrac:
Reduce overhead costs by automatically capturing, tracking and allocating every print job
Increase productivity through streamlined operations
Gain control and management of printing
Increase document security
Minimize print waste and toner consumption
Equitrac in Action: Six months after installing Equitrac a financial services organization uncovered some of the causes for their growing monthly printing expenses. A report pulled through Equitrac noted that most employees were printing their lengthy reports one-sided and in color. This was not done intentionally, their devices were simply defaulted to these settings, and only after using Equitrac did they notice how much it was increasing the costs to the organization.
This financial services organization immediately made the necessary default setting changes to two-sided and black-and-white. Additionally, through Equitrac, they set up a process that redirected print jobs to the most efficient machines. This reduced the use of personal printers with a higher cost per page, which were being used simply for convenience.
Papercut
Papercut is print management software that silently tracks employee usage by individual, office or department and provides reporting of usage costs compared to budgets and environmental impacts.
According to Papercut, "Our print management software is ideal for organizations of all sizes, from schools to engineering, graphic design, architectural, and accounting firms to advertising, legal and IT. PaperCut encourages the responsible use of company resources and helps to create an environmentally friendly workplace."
Papercut in Action: A perfect example of this software integration is for education institutions – from small town high schools to international universities. Many schools, in order to cut down on their costs, require students to be responsible for what they are printing. Papercut allows the schools to track usage by user and charge each individual accordingly.
Additionally, schools (and businesses) can assign print quotas to departments that allot a certain dollar amount or number of pages to be printed in a day, week, month or custom date range. When that quota is met, that department will no longer be able to print unless granted permission and their print quota is adjusted.
UniFLOW
UniFLOW is a software platform for all your print, scan and device management, designed to bring the full value of multi-functional printers, scan devices and large format printers to your organization.
The modular structure of uniFLOW and the powerful multi-vendor support allows the system to be built depending on your organization's exact requirements.
Furthermore, the tight integration with Canon hardware, embedded applets for multiple vendors and the uniFLOW Release Station, provide a print environment, whereby users print using a single driver for the entire fleet and whereby all their print jobs really follow the user from device to device, irrespective of the make and model.
UniFLOW in Action: Each month the Finance Director of a regional healthcare clinic is provided graphical reports that provide detailed usage reports by printer and by user. These reports assist her in financial planning and managing payments to print vendors.
One of the valuable uses of this software allows the Finance Director, along with the clinic's Managed Print Services provider, to monitor the use and efficiency of each device. This clinic included a handful of older machines that were still functioning well but close to the end of their life. In anticipation they monitored them closely and were able to identify the right time to replace these machines with more efficient devices. This allowed the clinic to prevent unnecessary expenses that can be caused by aging, inefficient printing technology or premature replacement.
Combining these print management software programs with the expertise of a print provider can improve the productivity of your employees, the efficiency of your print technology and the effectiveness with which your dollars are allocated. Get started with a free print technology assessment.
Topics: print costs, Copiers & Printers