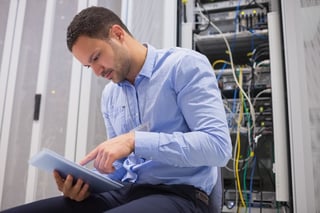 Outsourcing a variety of IT support tasks is made possible through managed IT services. While IT support is essential, it's up to you whether you pay someone to do it in-house or outsource those tasks to an IT service provider. Before I go into the cost-saving benefits of this service below, know that managed IT services helps businesses of all sizes focus on the business they do, instead of the technology that supports it.
Naturally, before making a decision about whether or not to use a managed IT service, you need to assess the benefits to understand if they align with your business objectives...
Benefits of Managed IT Services
Regardless of whether you run a large or small business, a managed IT service offers several benefits. For each of the following benefits, think about the potential impact on both your daily work and your bottom line. Consider the cost savings and how you could reinvest those saved dollars back into your own business.

1.) Predictable Monthly Costs
When you run a business, it's essential to keep a close eye on your costs. You'll want to know what you're currently spending, what you're spending it on and if possible, what you may have to spend in the future. This knowledge will help you adjust or navigate any unexpected situations that arise. When you have a managed IT service, you'll be paying the same amount regardless of how much support you need each month.
This means you'll know exactly what to budget and exactly what service you'll receive, allowing you to be more flexible when investing in other areas of your business.
2.) Small Initial Investment
Managed IT services help you offset the initial investment of technology costs. Rather than spending thousands of dollars on hardware and software upfront, you simply start with a low monthly fee. This helps you redirect your resources where needed, instead of tying them up in equipment and applications. Similarly, updating to new software is included in your service, meaning you won't be hit with increased expenses by keeping your technology up-to-date.
3.) INCREASED EFFICIENCY
Without proper IT support and staff, many businesses occasionally end up having non-IT staff working on IT-related business needs. But, when you have an office manager focusing on IT problems, they aren't focusing on their job: managing the office. A managed IT service lets you keep the people you've hired doing the jobs you've hired them to do. You'll have your IT needs outsourced to a team of IT experts, and during times where you need additional project support, your managed IT provider supplies the extra staff, not you.
Not only does this save you the headache of reallocating your current employees to projects, it saves your staff the stress and pressure of working outside their skillset. Outsourcing your IT to a team of IT experts can efficiently solve any task or issue at hand without overwhelming your internal staff.
4.) Economy of Scale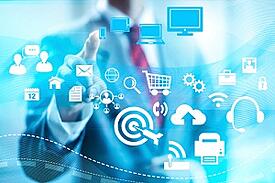 As your business grows, its support structure needs to grow, too. When you use a managed IT service you can scale your business up or down with nothing more than a simple discussion with your provider. If you hire on 10, 15 or even 50 employees, they can support them. Similarly, if you're not using a certain application in cloud computing, you can easily get rid of it.
Managed IT service is the ultimate in flexibility, capable of expanding and contracting based on your business needs. This is particularly useful in your business's early years and during periods of significant growth when things can change on a moment's notice.
5.) Immediate Expert Assistance
It may be a cliché, but time is money, and there is no time when that is truer than when you're struggling to solve an IT problem. IT problems have the ability to disrupt your productivity and completely stall projects. When you use a managed IT service, you won't have employees waiting for someone to figure out their technical problem and get them up and running. Instead, you'll be able to immediately access an expert who can solve your problem and get your business back on track, oftentimes within minutes.

Managed IT Services
Whether your business is small or large, its bottom line can benefit from using a managed IT service. You'll have consistent monthly costs, be able to scale as necessary, have immediate access to experts and won't need to spend a significant part of your budget setting up infrastructure. The benefits of managed IT services may be just what your business needs to take it to the next level.

Topics: Managed Services, Managed IT Services, Efficiency, cost savings