Sharing printers is much more cost effective than supplying a personal printer for each of your employees. One obstacle that arises with this cost-saving tactic is that every employee can see anything that is printed. For this reason and more, printers have security printing capabilities.
For many companies, security printing is a major concern. Printing confidential information, such as patient or client files, is risky if there are no security printing options available or if employees are unaware how to use this functionality. Because security printing isn't a basic function of printers your staff will likely need training.


How it Works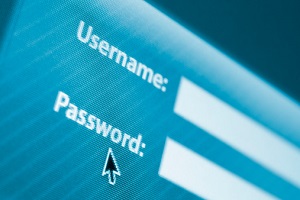 Security printing allows you to print a document from a computer to a network or public printer you are connected to, and your document won't begin to print until you enter a password or PIN number into the printing device. This ensures your confidential file won't get lost in the shuffle or be picked up by a co-worker that printed before or after you. HP states that, "Nearly 30% of all printed documents are left at the printer for anyone to take."
By necessity, printers store information about the documents you print on their hard drives. Some printers have the security printing feature that also erases documents from the hard drive after they are printed, to avoid this long-term storage issue.


Security Printing Uses
Security is a huge issue in many fields, such as medicine, financial services and law. Ethical and legal standards require that medical practitioners and law professionals keep all records completely confidential, so it's essential for organizations in these fields to take every possible step to ensure the privacy of their clients.
However, even if you are not in those fields you may be concerned about confidential business information being accessed. If you are printing credit card information, applications with personal information (such as social security numbers), employee salary information or any other information you may wish to keep private, security printing is something you should have available.


Know Your Printer
Each printer company has its own security policies and processes for security printing. Some companies, like Sharp, offer add-on security packages, while others, like Konica Minolta, have security measures already built in to the software. Look into your printer's security printing tools which are defined in your manual or can be found online.
In addition, each printer has a unique process and vocabulary for security printing; to find the easiest and quickest method for your printer, reference your user guide.
However, for most printers, accessing the security print feature is fairly straightforward. Begin printing as you would a non-secure document. In your Print dialog box select Properties and within this window there will be an area where you can change the Job Type, Mode, Output Method or other, depending on your printer, to Secure or Private. You will be prompted to enter information, usually a code or password, on your computer, and then again when you reach the printer.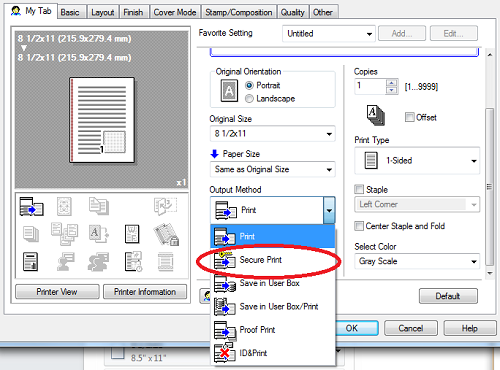 Beyond Security Printing
Your files are only as secure as your network, so make sure you set up proper security standards for your network, too. Wireless printing networks should be accessible only through passwords or authorized computers.


General Security Printing Tips
A lack of proper security within organizations costs millions of dollars every year, due to "private and corporate lawsuits, government fines, industry violations, employee and customer identity theft and stolen competitive information," according to HP.
With these issues in mind, we recommend that you do the following when you are setting up security printing for your office and staff:
Establish a security printing procedure and train your staff for proper utilization
Password-protect the printer itself
Password-protect the network and encrypt the admin access
Encrypt the network connections
Keep drivers and firmware up-to-date
Ask a Marco technology advisor about security printing capabilities and what your office needs to do to properly implement security processes.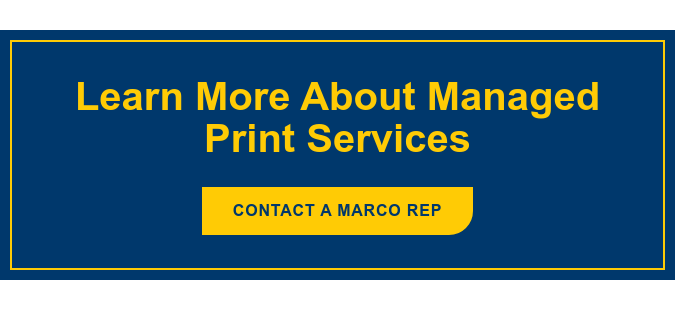 Sources:
Topics: General Printing Advice, Security, Copiers & Printers