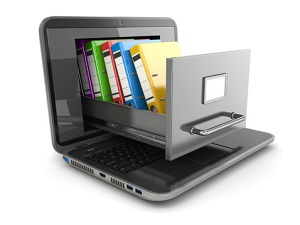 You've finished typing up an important document and emailed it to someone to review. They made changes and emailed it to someone else. That second person also made changes and saved the document – but, a week later they can't remember which folder they saved it in. You need to find the document and deliver it in ten minutes. Unfortunately, this is going to be next to impossible with your current document organization process.
There aren't many work experiences more frustrating than trying to locate a file you need. Or, if you do locate the file, it's the wrong version. Or maybe you don't know if everyone who needs to sign off on the document has had the opportunity to do so. Little things like this can quickly turn into hours of lost productivity.
The M-Files Solution
M-Files document management software works by allowing you to find, share and store information in the easiest possible manner. Traditionally, files are stored by location. With M-Files, all of your business's documents are stored within an accessible document system, and they're sorted according to their content, thanks to metadata. Employees can find everything quickly by typing in a few words. Imagine a search engine strictly for your business's documents.
Here's How It Works:
1. Central Location for All Organization's Documents
Files won't be stored on individual computers, but rather, they're all located inside one central system that anyone, from any computer in your business, can access.
Version Control
Employees can edit documents simultaneously. However, these copies don't overwrite each other – rather, M-Files uses version control to keep track of all versions created.
Revision History
This is key for many businesses. It is likely that, with your old system, if someone changed a file, there was a risk that their change could be permanent. Revision history keeps track of the changes made, which means you don't have to worry about locating a previous version of your document or figuring out who made the change.
2. Organized Collaboration
Collaboration is one of the keys to success. Unfortunately, under traditional file management structures, it's easy for important documents to get lost in the shuffle, or duplicated entirely. M-Files is designed to allow maximum collaboration with as many people as necessary, without losing organizational control.
Check-in, Check-out Feature
The check-in, check-out feature shows who accessed which document at what time. Note that M-Files can be accessed and tracked through off-site mobile devices as well.
Secure Access
Businesses naturally become concerned about security when a document is easily accessible. However, thanks to the secure access feature, certain documents – or even versions of documents – can be restricted so that only appropriate people have full access.
Avoid Duplicate Documents
In a traditional file storage structure, it's easy to create duplicate documents. Imagine sending an email with a simple letter to five people who need to approve it. Each of them makes the changes they would like and sends it back. You now have six different copies of the letter – and a host of conflicting notes.
M-Files eliminates this problem. As everyone has access to the same document, all of the changes can be made without the necessity of creating multiple documents.
3. Enhanced Workflow
Employees are human. That means they sometimes forget to take the little steps necessary to finish a project. For example, after completing a task for a client, they forget to email the invoice to the accounting department. M-Files is capable of automating these and other tasks, minimizing mistakes, and allowing employees to focus on their main priorities, instead of administrative tasks.
Your Full Potential
It's estimated that up to 50% of a worker's time can be spent searching for files rather than doing their job. At times, your employees may only be working at 50% of their potential. M-Files document management software works to unleash your employee's full potential. Find out more by discussing with a Marco document management specialist:
Topics: Document Management