Keeping everyone on the same page within a small or medium-sized business can be pretty easy. Everyone works in the same office and knows each other by face and name. The whole team might even end up in the same room on a weekly or monthly basis. But what happens when smaller companies experience growth? Once you've grown to five locations, communication can get tricky. If you're on your way to having 20 locations or more, the old ways of communicating aren't going to cut it.

Communication Needs for a Growing Company
When you increase your number of employees, whether it's through organic growth, making acquisitions or a combination of both, your communication needs change. More employees increase your odds of miscommunication, especially if you're relying on strategies that worked before the growth.
Ensuring everyone knows what they need to know gets even more complex when you have multiple locations and near-endless ways to communicate.


Don't Let Communication Hurdles Hold You Back
As companies grow, they tend to patch together their own communication system by combining their current phone system with all sorts of "free" communication tools for instant messaging, video conferencing and call recording. But these tools typically don't integrate and leave your communications messy, confusing and difficult to keep track of.
Plus, it can be challenging to keep a handle on how everyone prefers to communicate. You likely have some employees who prefer instant messaging or chat features, where others prefer email or phone calls. With a small office where everyone knows each other, this is pretty simple to navigate, but when you add company growth and additional locations to the mix, things can get pretty complicated in a short amount of time.
And I have a really good idea of just how complicated business communications can become because I'm a member of the cleaning crew. When businesses need a communication system that does everything they want it to do and works the way they want it to work, they want UCaaS. And if you're looking at upgrading your business communications, sooner is always going to be better.


UCaaS is Built to Help You Grow and Scale
UCaaS, Unified Communications as a Service, is a combination of software that incorporates voice, video, chat and collaboration into a single, seamless stream of communication. The entirety of UCaaS is accessible from any device at any time. This means you can use UCaaS on mobile, laptop, desktop and via web browser – and it delivers the same experience and settings regardless of device.

UCaaS is a cloud-based phone system that makes it easy to collaborate and communicate with clients, end users and fellow employees. Offered as a service means everything to do with installing, managing, monitoring, upgrading and anything else to do with the solution is our responsibility, not yours.
If the way your company used to communicate just isn't cutting it anymore, it's time to learn more about UCaaS.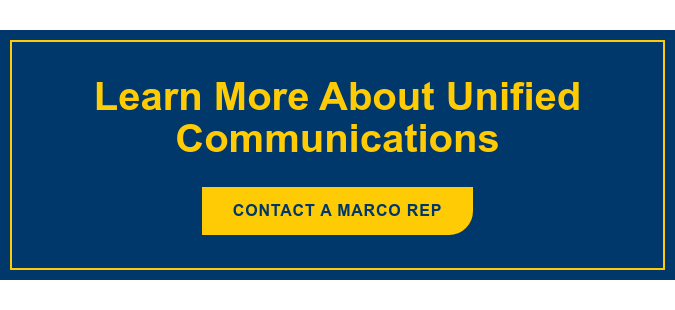 Topics: UCaaS