Without effective communication, the odds of having a successful team are low. Further, without quality communication, a team isn't really much of a team. It's more of a collection of people who happen to work together.
With great communication, a team can accomplish much more than any one performer. That's why we are excited to introduce a new teamwork tool for organizations who are already using Mitel's UCaaS (Unified Communications as a Service) software: MiTeam. Best of all, it's free if your company is already using Mitel's premium UCaaS licensing.


How does MiTeam Work?
The beauty of UCaaS is that it unifies all the streams of your communication - your email, voicemail, texts and more are all channeled into a single stream so you can organize, prioritize and centralize all types of communication. Likewise, MiTeam compiles communication, but it does it for your team or, more realistically, all the teams you are a member of.
The interface of MiTeam might be its greatest strength. When you click on one of your teams - the marketing team for example - it has four simple tabs. You can choose to chat, add and access the team files, check the team's to-do list and launch an online meeting. It's exactly what you would need to participate on a team and get work done effectively. It's simple, on target and brilliantly designed.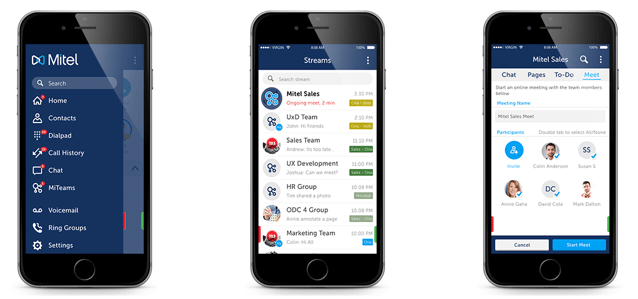 Adapting to the Workplace
Most people participate on many teams at work and in their personal life, but we haven't seen a generation of team players like those of today. Millennials, for example, live and breathe teamwork; they love collaboration. This new tool for communication understands how Millennials work and how they think as a generation. To them, work is social, work is best done by teams and teams function better when they have technology that builds connections.
MiTeam provides a communication solution that will be effective across your workforce and adapt to their collaboration preferences. MiTeam is also a tool that will integrate with your company's unified communication systems.


Mobile Teams
If you think that teams can only work together with all the team members in the same room, MiTeam might help change your perspective. You can use it to connect to your team, have an online meeting or work on a document in the stream collaboratively. You'll quickly see the opportunities for efficiency and ability to accomplish real work using this virtual collaboration tool.


MiTeam gives us a new way to interact on projects and using teams that help us complete tasks. I think it will change the way we all think about our work and communication.
Topics: Communications Services, Unified Communication, UCaaS