The belief that Managed Services are too expensive or unaffordable is a common myth our sales managers run into during their conversations with potential clients. When I asked Shelly Caldwell, our Regional Sales Manager for the Southern MN and Twin Cities markets how she addresses this myth, she answered with a challenge. Watch her response:
Is Managed Services Pricing Affordable?
Oftentimes, businesses that say Managed Services provider pricing models are unaffordable don't have a clear understanding of their current costs. When you take into consideration the hardware, software and day-to-day management of your business technology, you're just at the beginning. It also requires looking into the costs associated with your current IT staff members. How much goes into their salary, benefits, day-to-day training?
What we've found is that internal IT staff have their plates full with the day-to-day management and end-user support, which leaves them little or no time to focus on building out a technology roadmap that'll move their business forward. Many businesses find that it's a better use of their investment to outsource those day-to-day business technology needs and free up their internal IT staff to focus on big picture ideas that'll support their business into the future.


Working with a Managed Services Provider
When you work with a Managed Services provider, one of their jobs is to work with you to understand what your expenses are and how you can use your investment to get the best result for your business. They will help you to develop a realistic plan with an affordable monthly investment where your technology is managed and your business is supported. Want to learn more about how Managed Services can benefit your business and still be affordable? Contact a Marco rep: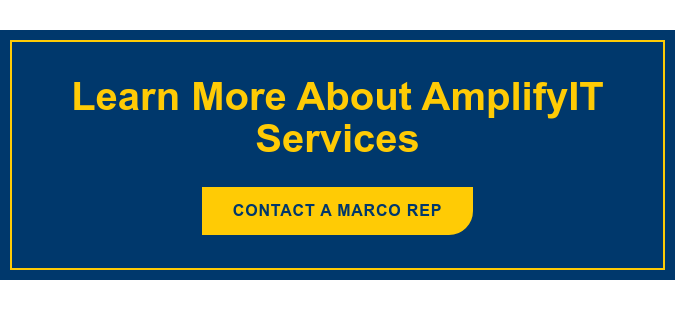 Topics: Managed Services