At the end of the day, the technology of placing toner on paper can only go so far. But, that's not to say printers and copiers have reached a sort of technological ceiling. Instead, the focus has shifted toward uncovering how to manage and carry printable data into the appropriate areas. The future of office copy machines is all about protecting the data on the printed page, creating efficiency in the office and creating workflows to support that efficiency.
Here's what the future of the office copy machine looks like ...
Features and Functionalities for Today's Office Copy Machines
Print Security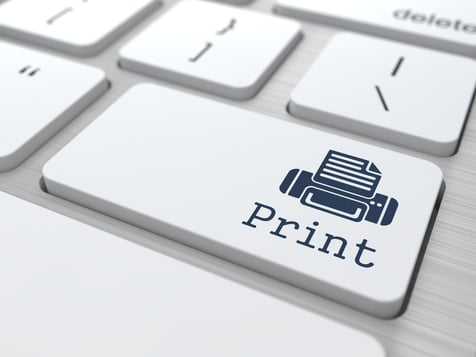 When it comes to print devices, a lot of the attention revolves around security. And I don't just mean security on the network and how the device communicates with the different endpoints. I'm talking about the security of the printed page. A lot of our customers are interested in layering software solutions on top of their devices that allow for secure printing.
With secure printing, anytime you need to print something confidential - whether it's a medical invoice, salary information or any other private information - you can click to print and not need to hustle to the copier. Instead, that print job is held by the machine until you either swipe your badge or enter your PIN number. Until you authorize the document's release, it's placed in a private queue that no one else using the machine can view.
Next-Level Scanning
Another feature creating efficiency within office print environments is increased scanning features. Many businesses and organizations are familiar with being able to scan documents to email addresses, into folders, and onto servers, but for those looking for even greater efficiency, you can also scan documents directly into workflows. A user can scan a document, the device can apply OCR (Optical Character Recognition) and the device can recognize the form and know where the document should be deposited or saved.
Job Accounting or Billback
For most businesses, office printing is generally considered an unaudited expense. But, more and more companies are moving to a model where they allocate print expenses intentionally. For instance, an office may provide a certain print budget to various departments, or universities may designate a certain amount of printing funds to each teacher and each student. By applying a software tool, businesses and organizations are able to track how much each department prints, and even narrow their data to show how much each end user is printing.
Mobile Printing with HP's Apple AirPrint
Those of you who spend time traveling for work, or working on-the-go, know the difficulty of needing printer access in the oddest places. With HP's Apple AirPrint, you can locate the nearest public printer. Then, you can send your document there, and the application will give you directions to the public printer and a PIN number to release the document. With more and more employees traveling and working remotely, it's good to know you can still find a place to print even if you're miles from the office.
When it comes to printing, the actual technology of putting toner on paper to print documents hasn't changed much, but the features and capabilities that can be added to an office copy machine continue to change and evolve to accommodate mobility, security and cost accountability.
Topics: Copiers & Printers, Print