Posted by
Dan Olk
on March 28, 2016
Over the past year we've had the pleasure to create great audio video system updates for our clients, tailoring each project to the client's specific needs. Today, I'm going to share some of our projects from this last year and describe ways we've updated old technologies and let growth fuel innovation. Check back next month for Part 2.


Audio Video Example 1: Video Wall
Back when we had under 100 employees, Marco headquarters began displaying a printed photo of each employee on a 30x10 foot wall - in order of hire date. Since starting this tradition, our company has grown to over 1,000 employees, which is great in terms of business but troublesome for maintaining our employee photo wall. We showcase all of our staff because the work we do here at Marco truly is a group effort, with each and every employee contributing to our successes. We wanted to continue this tradition, but had outgrown the wall. We needed a better way.
Our solution became a 10-screen video wall displaying our 1,000+ employees on a rotating pages. Each screen in the 2x5 display is 55 inches with 1920x1080p resolution. A single computer controls all ten monitors, and as employees come and go, the photos are automatically resorted to reflect the changes.


Audio Video Example 2: School Gymnasium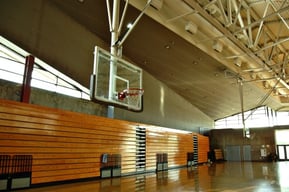 School gymnasiums act as multi-function event spaces. They must transition from a pep rally or athletic event to a graduation space. A week later the same gym may house a speaker stage or an arts performance. Ease of transition and usability are key factors in these multi-use facilities.
Our audio video system update for a school gymnasium in Alexandria, MN optimized the space for a variety of its regular uses. We installed a 3x3 video wall synced with AirMedia, allowing anyone with a mobile device or laptop to wirelessly connect, and using a passcode, display their data on the video wall.
The gym features multiple audio speaker zones. With audio zones, users decide which speakers have output at any time. For example: During athletic events they can allow partial audio so output is only above the bleachers, and during graduation ceremonies users enable full audio, which fills the space evenly with clear, crisp audio. The audio system includes microphone input plates for wired mics to feed directly into the distribution system as well as wireless mics with antennas.


Audio Video Systems Updates
At Marco, we're focused on how we can bring the right technologies to your business or organization. If you're wondering how audio video business technologies could work for you, contact one of our technology advisors. In Part 2, we'll share some more work we've done with a few additional clients.