Last week, I shared two of our customized A/V systems from the past year, and today I have three more examples of updating outdated audio video systems. If you haven't already, check out Part 1.
Example 3: Boardrooms
Banking is big business, and it keeps getting bigger. Banks branch out into large cities and rural areas to serve more people. Although being stretched across the state is great for client access, it makes staying in-touch with co-workers more difficult. When meeting face-to-face became cumbersome for one North Dakota bank, they solved their problem by outfitting all of their branches with audio video conferencing systems.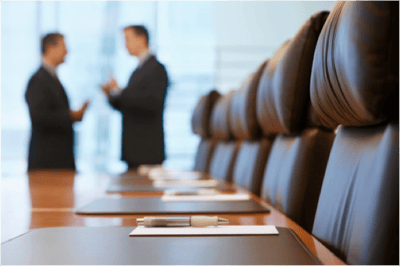 Marco provided each branch with cameras and dual monitors, allowing one monitor to be on whomever is speaking while the second can focus on what is being presented. Ceiling microphones collect and transfer high quality audio through a full bi-directional audio flow, so everyone is equally involved. By eliminating the need to drive to a centralized location for meetings, this audio video system saves the company time and money.
Example 4: Courtrooms
A Minnesota Judicial District recently updated their courtroom audio video systems. This project was a massive change from the Matlock-era projector and paper system previously in place. Marco installed ceiling cameras capable of zooming in on evidence being discussed, increasing clarity on smaller details.
Now, counselors can share laptop evidence right from their council table, with the judge in control of access and permissions for anything displayed in the courtroom. Each council table and the witness stand is outfitted with 20-inch touchscreens where users can physically annotate evidence and print to the courtroom's printer.
Example 5: College Ballrooms
Large group spaces need to be multi-function, and Marco's installation at a college ballroom considerably increased the space's usability. The ballroom's divider walls allow there to be one, two or three rooms to suit a variety of occasions.
The ballroom contains three 6,000-Lumen projectors, each with its own touch panel to control lighting, microphones, audio and screen switching. This way, the rooms are each technologically enabled regardless of how they're divided.
Custom Audio Video Systems
There you have it, three pretty cool (if I do say so myself) presentation technology upgrades. At Marco, we get excited about using technology to improve and optimize space and workflow. If you're wondering what audio video systems could benefit your space or organization, have one of our audio video specialists contact you.
Topics: Audio/Video