As the need to record phone calls increases, many businesses are doing their best to patch together DIY solutions. These DIY solutions may record audio, but the user experience is clumsy, the technology is non-integrative and the results are often low quality. With UCaaS, call recording is different. It's seamless, it's efficient and it's powered by Mitel technology. Take a moment to watch this call recording demo:
How to Record Phone Calls with UCaaS
As you heard Chris in the video, UCaaS call recording allows calls to be recorded on an individual and full-time basis, based upon the particular phone or agent's settings. And those settings can be as specific as you need them to be. Record inbound calls only, outbound calls only, all internal calls, calls from particular numbers, etc. Depending on what you want to record and when you want to record them, the call recording solution can be set to do any of those things on an individual extension or user basis.
Using the Management Studio
The Management Studio is the interface where users search for recordings and play back calls – there are all kinds of different options for reviewing audio. Advanced find features allow you to set different search parameters to search for different calls or different groups of calls. You can narrow down the search criteria by date, time of day, phone number, extension, etc. You can use "and" search criteria to find what you're looking for.
Once you find the call, you can select it, and the middle of the screen displays all available information about the call, including:
Date
Time
Phone number
Caller ID
Extension of the user that took the call
The audio recording also keeps track of different actions that occurred during the call. Was the call put on hold? Transferred to another extension? This information is recorded and displayed.
As you saw in the video, you can also select portions of a recording. Selected portions can be locked to prevent deletion, exported to other users and shared via email as a "listen-only" file. Users can also leave notes on particular segments of the audio.
Evaluations and Scorecarding
The final feature Chris covered was Evaluations and Scorecarding. A common use for this feature is to have end users listen back to previous calls of theirs and grade their performance. Evaluations and Scorecarding make it easy to select a handful of recordings and provide a few questions to the agent. Once an agent has completed the evaluation, supervisors can pull a report seeing how everything went. It's a useful tool for supervisors and agents alike.
If you have any questions about call recording, please contact a Marco sales rep: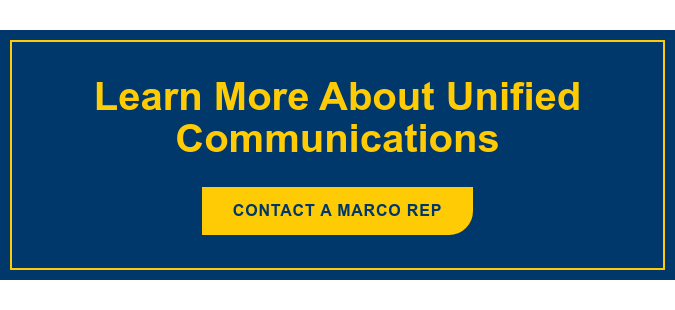 Topics: UCaaS