Managed IT solutions allow organizations to keep remote employees connected without hurting collaboration or lowering productivity. By enabling remote work within your organization, you can also enhance productivity. But, when today's organizations want to make working from home an option, things can get pretty complex pretty fast.
Luckily, that's where I come in. I'm Dustin Bonn, Managed IT Solutions Sales Manager at Marco. As you'll see in the video, my team and I partner with businesses that are looking to align their growth strategies, challenges and initiatives into a comprehensive technology roadmap that will enable them to grow and scale successfully. Check it out:
Managed IT Partnership
When we first partner with a business, it's all about understanding their current goals and challenges. We figure out where a business is currently at and where they would like to be. Then, it's about designing a technology roadmap that will get them where they're wanting to go.
Here at Marco, we have many different types of products and services that can help businesses get where they want to be. When you start looking at aligning different types of technology, things can get very complex, very fast. You might not know how a new software or application interacts with what you currently have. For instance, will it integrate with your accounting software or CRM software? Our managed IT staff navigates these situations for customers all the time. They have the subject matter expertise and the experience to help you through it.


Enabling Remote Access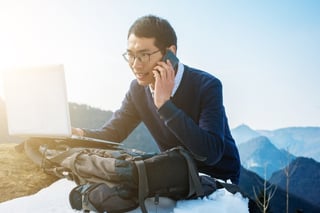 Needing to access applications and perform job functions remotely is a growing need for today's businesses. We can align different types of technology to make it possible for your employees to use remote access anywhere, on any device.
It might be an experience with Marco's cloud services or something where your applications and day-to-day desktop computing is hosted in Marco's data center. What it comes down to is uncovering whatever solution is right to meet your current and future needs.

Enabling Business Technology
There are many different types of solutions we can outfit. We're seeing cloud services intertwining with just about everything - even phone technology. What's interesting is that there are so many different paths to take. This makes working with an experienced, dedicated technology provider a wise use of your time because you're outfitting yourself with a provider who can get you where you want and need to be.

It's worth noting that not all technology providers are created equal. What makes Marco different is that we look at a business's entire technology roadmap, not just a specific piece or portion. We focus on understanding everything you're looking to accomplish and then putting in the legwork to get your business on the right path, or at the very least, helping to make some recommendations.
Topics: Managed IT Services