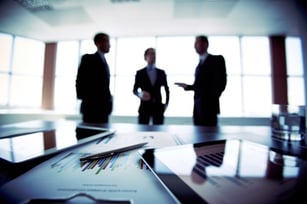 Business owners are becoming increasingly familiar with the premise behind managed print services. However, as the popularity of these programs grows, it becomes more and more important to understand what services an effective Managed Print Services (MPS) program should include. That way, businesses won't entrust their print management to a provider that offers an incomplete program. For more clarity, I've outlined four necessary services any MPS program should include.
#1: A Simplified Purchasing Process
Inside the average office space right now, there are probably printers, copiers, fax machines or MFPs from various vendors. One department might have HP devices, while another uses Lexmark, and so on. On top of managing supplies and maintenance for different devices, there is the cost of paying invoices to different providers of those supplies and repair services that might specialize in devices from different manufacturers.
With a Managed Print program, businesses enjoy a streamlined purchasing process and a one-stop-shop for printer fleet management.
#2: Usage Monitoring
An MPS program uses the results of a print audit to help identify potential cost-saving opportunities in your print environment and balance out the print volume per device in an office, which extends the print life of equipment.
After implementation, your usage will be monitored by your provider. This information allows your MPS provider to point out ongoing cost-saving opportunities, as well as make adjustments to your program. In this monitoring, toner usage is tracked, so supply replacement can be automated. Your replacement toner cartridges will arrive at your office shortly before your existing cartridges are empty.
#3: Equipment Maintenance or Replacement
Maintenance, parts repair and equipment replacement all have a significant impact on the effectiveness of employees and the efficiency of operations throughout the company. When a printer goes down for maintenance or needs a part replaced, there is a cost associated with its downtime. The longer that downtime drags on, the greater the cost of the lost operation time.
If a printer or other MFP device needs to be replaced, you have to deal with decreased printer functionality and lower productivity levels. There is also the cost of a capital expenditure to purchase new equipment.
Managed print providers should offer support from certified technicians as part of any managed print program. When printers go down, the program covers the cost of travel time for a technician, on-site maintenance, repair and even the cost of replacement parts or full equipment replacement as a result of normal use.
#4: Help Desk Support
Even with the greatest installation and maintenance support available, a reliable Managed Print Services program needs to offer help desk support to assist when end user questions or frustrations arise. A managed print provider's program offers support during normal business hours to address issues of functionality and performance.
Goal of MPS Programs
A managed print program's goal is to help remove printing obstacles that stand in the way of productivity and profitability. By offering equipment relocation advice, device recommendations and usage alterations, a Managed Print Services program can help businesses improve office workflow and save money.
You can also look to your managed print provider for advice in selecting new devices offering the functions or features that make it easier for employees to do their job. Now that you understand which MPS services are most important, you might be ready to speak to a Copier/Printer Specialist. To see how MPS has helped other businesses, download our free Managed Print Case Study Collection:
Topics: Managed Print Services