Old or broken hardware is inevitable. For instance, once a server gets to be about three to five years old, the cost of equipment maintenance starts (and keeps) increasing. Then, when you start looking at replacing old hardware, you find out how out-of-date your software is. Will this new hardware communicate with my old, broken software? Do you really need to upgrade your entire operating system?
Updating, upgrading and replacing old hardware and software can turn into a headache, fast. From the endless options available on the market today to service questions and keeping your business safe from cybercriminals, there are no shortages of work that needs to be done. Not to mention actually matching your infrastructure to your business needs; that's one of the best ways to make your investment worthwhile. So, what's a business to do? First of all, realize that you don't have to do it alone.
To get started, here's a quick video:
Replacing Old Hardware or Software
Basically, any business needs that come up around technology strategy can be handled by Managed IT Services. These services can take into account the specific needs of your business, develop a technology roadmap that meets those needs and provide the products and services to get you where you want to be. The best part? Instead of dealing with replacing old software and hardware, you just get to experience and benefit from the new technology.
If your head is spinning trying to figure out how to implement a cloud migration, if you've finally read one too many cybercriminal articles or if you simply realize it's time to bring your technology up to speed, Managed IT Services can help.


Managed IT Services Technology Assessment
In order to get to know your business, we begin with a technology assessment. All an assessment involves is taking stock of your current technology, listening to your business needs and goals, and developing potential solutions for your business. It truly takes the complexity out of upgrading business technology and gives you someone you can work with who is looking out for your best interest.
Interested in learning more? Click below: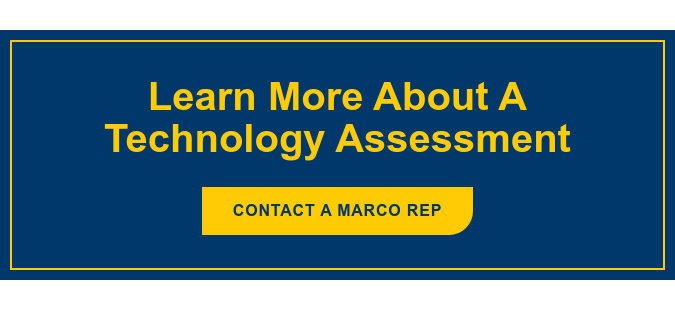 Topics: managed IT