When it's time to replace an office printer, how do you decide which device is best? There is no shortage of options available - from personal printers to multifunction devices. While you're considering which features and capabilities you want the device to have, take a moment to consider the ease that comes along with owning an HP printer.
The Popularity of HP Printers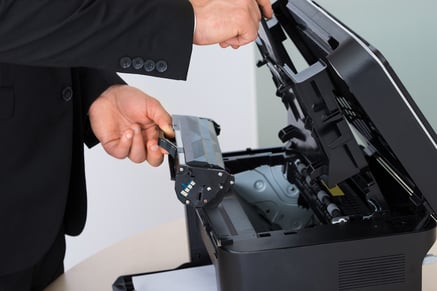 When it comes to A4 business printing, HP print technology holds the largest market share. And businesses with HP printers get to reap the benefits of that large market share. Here are a few reasons why choosing HP printers makes sense.
Service Network
With a market share as large as HP, you're basically guaranteed to fall within the service area of qualified print providers. So, if your print technology is in need of service or maintenance, you won't get caught up searching for a technician who knows how to work with HP. But, if you buy relatively unknown printers, finding service providers and replacement parts can be a pain.
Security
HP is known for providing the most secure print devices available today. This investment in security gives businesses the peace of mind that their print devices won't be used as entry points for cybercriminals.
Reliability
There's a reason IT professionals trust HP. As a brand, HP has a reputation for providing reliable, long-lasting print technology that today's businesses can rely on.
Financial Benefit
While any internet search will tell you that HP printers are not at the lowest price point in the industry, the true cost of a print device is in what you pay for it over the course of its useable life. The reliability of HP printers, combined with their security features and nationwide service network mean that overall they will cost business owners less in the long term.
Topics: Print