Humility. It's an essential leadership trait and one that only gets harder to reflect as you grow in your role, status, influence or compensation.
A definition of humility that I like is "a modest or low view of one's own importance." Webster describes it as "freedom from pride or arrogance." With humility, comes wisdom.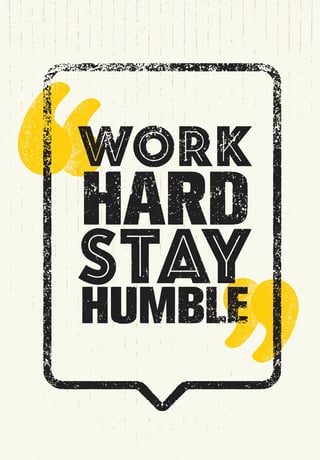 Leaders can put themselves in positions where they lose their grounding. What they may intend as a comment, even validated with facts, can be perceived as bragging.

I have definitely been reminded about the importance of humility as I have gone from a young sales guy trying to prove himself to an executive that's constantly being watched. There's a fine line between confidence and cockiness. Yet, the most admired leaders are both humble and confident.

We know humility in leadership when we see it - and when we don't. We can accept honor with humility. A situation can teach us humility. But how do we live it out each day? Here's a look at how leaders can stay humble:
Be kind when it's least expected.
When a mistake is made that impacts the business or you personally, step back and be calm. It's important how you handle these situations as a leader. Relationships are defined when things don't go as planned. Graciousness and humility often go together.
Titles don't define leadership.
The world recognizes hierarchy through titles – whether you're in the military, running a nonprofit or leading a for profit business. But you don't have to have a title to be an effective leader. It's not what it says on our business card or where we fall on the organizational chart. It's our work performance that defines us.
Distribute credit constantly.
Leaders don't take credit. They give it to the people around them. Even if they thought of the idea, pulled together the team or created the plan, they recognize others who played a role. Whenever we think we have to "prove ourselves," validate our performance or build credibility, we risk our humility.
Be mindful of your dialogue.
Choose your words carefully. A quick comment could be perceived as cocky or entitled. It can be as simple as using "we" rather than "I" – it sends a better message.
Talk about your failures.
Vulnerability breeds humility. Be willing to talk about your mistakes. All good leaders experience failure at some point in their careers. We can't win all the time. Don't be afraid to show others how your failures have taught you valuable lessons.
As leaders, we need to be constantly mindful of how important it is to be humble. Above all, be sincerely genuine. You can't fake that.