I recently presented to a high school leadership class and the graduates of a local chamber of commerce leadership program. During the dialogue, I felt as though the participants viewed my tenured career and business accomplishments as something they aspired to for themselves.
My response and advice to leaders at all levels in their careers is this: Don't wish time away. I'd rather be younger sitting in their chairs than 59 as the accomplished business man that they see. I've enjoyed the journey and I'd love to do it all over again.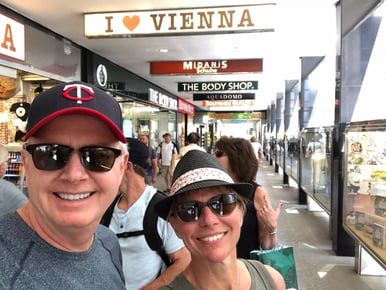 Now in the fourth quarter of my career, the game takes on a different tone. It's more about planning for others than it is for myself.
I know some people who count down the days – or even years – until they retire. I'm not. That feels like wishing time away and I enjoy what I do. Here's my advice at this point in my career:
Live well while you work hard.
One of the reasons why I am not looking at the calendar is because I have balanced my work time with my family and friends and doing what I enjoy. Work-life balance looks different for everyone. When you have it, you know it. I believe if you're working more than 50 hours a week, you're impacting the rest of your life. My head is always in the game, but you won't find me putting in long hours week after week, and I encourage my team to strive for the same balance.


Contribute to retirement before you pay yourself.
So often finances dictate retirement dates. The best advice I can give young professionals is to take control early and make investing in retirement a top priority, starting with your first regular paycheck. Invest in retirement before you spend money on anything else – including a mortgage. I know it takes discipline. Do it anyway (and you'll thank me later).


Keep work fun and engaging.
This requires you to challenge yourself, keep your skills sharp and stay focused on your purpose. Don't get old school or people will help you with the decision. If you allow yourself to do that, your motivation will fall and so will your performance and satisfaction. Be open to change and stay engaged. With the sale of our company a couple of years ago, I now have a boss, new measurements for success and renewed energy and focus.


Make proactive career moves.
Don't wait for things to happen to you. As you look around corners, you may recognize that you need to shift your focus and the type of work you do to stay contemporary. Pay attention to growth areas and position yourself accordingly – throughout your career.


Resist the temptation to think short-term.
Whether you're just starting your career or nearing retirement, focus on the long-term. Short-term thinking leads to short-term performance. A key measurement of leaders' success is how well the organization thrives after they leave. Do the necessary succession planning, but don't lead with one foot out the door.


Tackle your bucket list early.
Retirement used to be the time when professionals created a bucket list of places they want to travel or activities they want to do. What if you started that list this year? Take extended trips. Carve out time each week to do what you'd like to do. Besides building in more fun and balance, checking off the proverbial bucket list prevents professionals at any age from dreaming for "one day" in retirement. They're more satisfied and contribute longer to the workforce.
Time really does go faster as you get older. Don't wish time away. Be present and proactive, and be the one who chooses where your path goes.