One of the best pieces of advice I received in my career is this: Minimize your highs and maximize your lows. We can easily get too confident when we win – or have a series of wins – or get too down on ourselves after a loss. Neither are productive.
I was at U.S Bank Stadium for the playoff game when the Minnesota Vikings were losing to the New Orleans Saints. The feeling of defeat was already in the stands – with only seconds left in the game.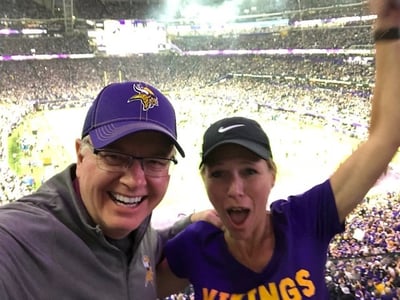 Then, Stefon Diggs pulled off that historic catch in the final 10 seconds to win the game and the "Minneapolis Miracle" celebration began. It became the #1 NFL play of the year and likely will go down as one of the best NFL plays of all time.
After that unbelievable win, I wondered if the players would be able to minimize that high to stay focused on the next game. It wouldn't be easy, but it would be necessary for them to earn their spot in the Super Bowl. The same psychological hardiness that leaders need to overcome challenges and defeat is needed to ground them in the highs of victory.
Being a performance-driven technology services company is not that different from a professional sports team. Like a Super Bowl team, even high-performing companies lose sometimes. The teams that effectively come back after a loss seem to be the ones that end up in the championship.
After the Vikings' disappointing playoff loss to the Philadelphia Eagles, a millennial I have had the pleasure to get to know asked me – so how do you come back after a loss? He thought it would be a good blog topic and I agreed. Here's my response:
Balance your perspective.
Practice psychological hardiness by staying steady. In the final seconds of the Saints' game, Vikings' Quarterback Case Keenum demonstrated the calm and steady demeanor that he had become known for all season. Even when under pressure, he didn't seem shaken. He positioned himself to launch a "Hail Mary" to wide receiver Stefon Diggs. Unfortunately, he didn't carry over his calm demeanor to the next game.


Break down the plays.
When we lose there's an opportunity to evaluate performance and uncover the lessons. The high performers know where things went astray. Professionals analyze what went wrong and make the necessary adjustments. Often in business we think we lose out because of price, but that's rarely the case. Let go of excuses, own what you can and find ways to up your game next time.


Move on, expecting to win.
This is easier said than done. You shouldn't dwell on the past, but instead focus on your next game. Whether you win or lose, you need to move on and focus on the next opportunity with the confidence that you will be successful. At Marco, we go into every opportunity thinking we are going to win, even if the odds may not always be in our favor. Confident players know the value they bring and the attitude it takes to be a champion.
Whether we're on the field or in the board room, we need to be as good of a loser as we are a winner. We all know some poor winners and good losers. Sometimes it's not about who wins or loses (although I much prefer winning) – but how they handled it. Stay humble when you win. Don't lose your confidence when you lose.