Last week was an exciting week for me. On Friday, I proudly married Melinda Sanders, a beautiful person, inside and out, and I couldn't be happier. It was a super fun event that we celebrated with our closest friends and family. I think everyone had a great time.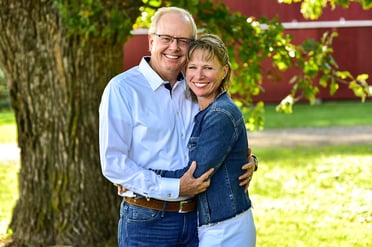 The decision to marry Melinda was really easy. I knew from the first time we went out I wanted to spend the rest of my life with her. I know it sounds kind of corny, but it's true. Perhaps you've experienced the same thing in your relationship. It's a good feeling, isn't it?
I've learned a few things along the way…
It needed to be the right fit.
It's different when you get married later in life. It's not simply about a couple's ability to get along, share values and have similar interests. We both had families and friends that needed to fit, too. I found this to be a really important part of our relationship, probably more than I thought. I couldn't be more pleased with how well everyone has come together. It is super fun having a bigger "family."




It's more fun together.
I really like having a buddy to do stuff with. Here are some of the things we do together: wash cars in the driveway, feed the birds, plant flowers, grocery shop, play cribbage, attend social and sporting events and host friend and family get-togethers. We play tennis and racquetball, and we even took up pickle ball. We took dance lessons, dusted off our golf game and I bought a bike so we can go riding together. I even wear a helmet. I know these sound like every day things, but they're a lot more fun now. And I've found that we've had a positive influence on others who started doing some of these activities as well.


We make each other better.
I think we both have always been pretty good people. But I realized some of the "good stuff" was missing. For example, we've improved our recycling habits
(I bring the reusable bags to the grocery store now), we strengthened our connection to the church and we increased our participation in community fundraising activities and are more intentional with our contributions. We also eat healthier. I used to eat out a lot and now we enjoy cooking healthier meals together. We are volunteering more – Mel was always good at this and I'm getting better.
From time to time I found myself being jealous of others. It wasn't because of the size of their house, the car they drove, or the possessions they owned. It was because I envied their relationship. Whether I was at the grocery store, church, gym, a sporting event or traveling, I noticed couples enjoying their time together. Now we're doing that. I'm actually jealous of myself and am really grateful for it.